Unleash Your Vehicle's Stopping Power

Your vehicle's braking system is its most crucial safety feature. Whether you're an enthusiastic driver seeking enhanced performance or simply looking to replace worn-out components, upgrading brake pads and rotors can make a significant difference in your vehicle's stopping power and overall driving experience. In this guide, we'll explore the benefits of upgrading your brake pads and rotors, and provide a step-by-step walkthrough for replacing them.
Part 1: The Benefits of Upgrading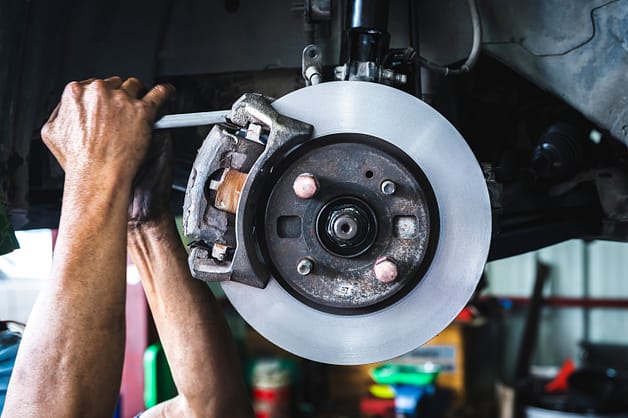 Improved Performance: Upgrading to high-performance brake pads and rotors can significantly enhance your vehicle's braking capabilities. These components are designed to handle higher temperatures and provide better stopping power, which is especially beneficial for spirited driving or towing.
Reduced Fade: Performance brake pads and rotors are engineered to resist brake fade, which occurs when prolonged or intense braking causes a decrease in stopping power due to heat buildup. Upgraded components maintain consistent performance under strenuous conditions.
Enhanced Durability: High-quality brake pads and rotors are built to last longer than standard OEM components. This means fewer replacements and more miles of reliable braking performance.
Customization: Upgrading your brake system allows for customization to match your driving style. From aggressive track use to daily commuting, there are options tailored to your specific needs.
Part 2: Replacing Brake Pads and Rotors – Step by Step
Note: This guide assumes a general understanding of vehicle maintenance. If you're uncertain, consult a professional mechanic.
Tools and Materials You'll Need:
Step 1: Preparation and Safety
Start by parking your vehicle on a level surface, engaging the parking brake, and wearing appropriate safety gear.
Step 2: Lifting the Vehicle
Using the jack, lift the vehicle and secure it with jack stands to ensure stability.
Step 3: Removing the Wheel
Loosen and remove the lug nuts, then take off the wheel.
Step 4: Caliper Removal
Unbolt the brake caliper from the caliper bracket using a socket and ratchet. Carefully hang the caliper with a wire or bungee cord to avoid putting stress on the brake line.
Step 5: Brake Pad Removal
Slide out the old brake pads from the caliper bracket.
Step 6: Compress the Caliper Piston
Using a C-clamp or caliper tool, compress the caliper piston to accommodate the new brake pads.
Step 7: Rotor Removal and Replacement
If replacing the rotors, unbolt and remove the old ones. Install the new rotors and secure them in place.
Step 8: Installing New Brake Pads
Insert the new brake pads into the caliper bracket, ensuring they're properly aligned.
Step 9: Caliper Reinstallation
Place the caliper back over the brake pads and rotor, and bolt it to the caliper bracket. Use a torque wrench to tighten the bolts to the manufacturer's specifications.
Step 10: Wheel Reinstallation
Put the wheel back on the wheel hub and hand-tighten the lug nuts.
Step 11: Lowering the Vehicle
Carefully lower the vehicle using the jack and remove the jack stands.
Step 12: Final Steps
Fully tighten the lug nuts using a lug wrench. Before driving, gently press the brake pedal to ensure proper brake pad contact.
Conclusion
Upgrading and replacing your brake pads and rotors can vastly improve your vehicle's braking performance and safety. Whether you're seeking enhanced stopping power for spirited driving or simply need to replace worn-out components, following these steps will help you unleash your vehicle's full braking potential. Always prioritize safety, and if you're uncertain about any step, don't hesitate to seek assistance from a professional mechanic. With upgraded brake components, you can enjoy a safer and more enjoyable driving experience.
We have several Tips articles and videos on the subject of providing useful tips and tricks to address common problems to fix, and upgrades to improve your vehicle's performance, reliability, and longevity.
Tips For Upgrading Your Vehicle
Power Adders (Turbocharger or Supercharger)
Nitrous Oxide System
Rebuild or Replace your Engine Block
Here are 5 High Performance Parts Tips that are worth checking out. Also, take a look at Brake Fluid – Reaching The Boiling Point.