Customization of port sizes in aftermarket cylinder heads can have a significant impact on the performance of an engine. Cylinder heads play a crucial role in the combustion process by managing the intake and exhaust gases as well as housing the valvetrain components. Port sizing refers to the internal dimensions of the intake and exhaust passages within the cylinder head. Here's a discussion of the value of customizing port sizes in aftermarket cylinder heads: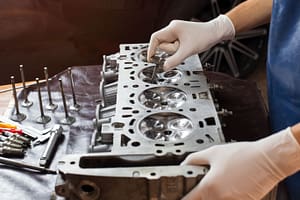 Performance Optimization: Different engines have varying requirements for air and exhaust flow based on factors like displacement, compression ratio, camshaft profile, and intended use (street, track, drag racing, etc.). Customizing port sizes allows engine builders to tailor the airflow characteristics to meet these specific needs. Properly sized ports can enhance engine breathing, leading to improved horsepower, torque, and overall performance.
Tuning Flexibility: Aftermarket cylinder heads with adjustable or customizable port sizes offer tuners and engine builders more flexibility in achieving the desired powerband characteristics. Smaller ports may enhance low-end torque, while larger ports can improve top-end horsepower. By adjusting port sizes, the engine's power curve can be shifted to match the intended application.
Combustion Efficiency: Efficient airflow management is essential for proper combustion. Well-designed ports that match the engine's requirements promote better air-fuel mixing and combustion efficiency. Customizing port sizes can help avoid turbulence, reduce unburned fuel, and minimize emissions.
Balanced Performance: A key aspect of port sizing is maintaining balanced airflow between cylinders. Uniform airflow ensures that each cylinder receives an equal amount of air and fuel, leading to consistent combustion and power output. Customization allows for fine-tuning to achieve this balance, which can be challenging with stock cylinder heads.
Camshaft Compatibility: Camshaft choice affects valve timing and duration, which in turn impacts airflow requirements. Customizing port sizes enables better alignment between the camshaft profile and the port characteristics, optimizing valve events for improved power and efficiency.
Aftermarket Component Compatibility: Engine builders often combine aftermarket components, such as intake manifolds and headers, with aftermarket cylinder heads. Customizing port sizes in the cylinder heads ensures compatibility and proper matching with these components, maximizing overall performance gains.
Race Applications: For racing applications, where squeezing every bit of power matters, customization of port sizes becomes even more critical. Engine builders can push the limits of airflow and performance by precisely calibrating port dimensions to extract the most from the engine.
Personalization and Innovation: Aftermarket cylinder heads allow for innovative designs and personalization. Engine builders can experiment with unconventional port shapes and sizes to explore new ways of optimizing airflow and combustion, leading to unique performance characteristics.
Educational Tool: Customization of port sizes also serves as an educational tool for engine enthusiasts and professionals. It allows them to understand the intricate relationship between airflow dynamics, combustion, and power production.
It's important to note that while customizing port sizes offers significant advantages, it requires expertise, thorough testing, and sometimes computational fluid dynamics (CFD) simulations to ensure optimal results. Unintended consequences such as flow restrictions, turbulence, or poor combustion can arise if port sizes are not properly matched to the engine's characteristics. Therefore, a comprehensive understanding of engine dynamics and the principles of airflow management is crucial when undertaking such modifications.
We have several Tips articles and videos on the subject of providing useful tips and tricks to address common problems to fix, and upgrades to improve your vehicle's performance, reliability, and longevity.
Tips For Upgrading Your Vehicle
Replace Your Brake Pads and Rotors
Power Adders (Turbocharger or Supercharger)
Nitrous Oxide System
Rebuild or Replace your Engine Block
Here is an article on the Jesel Valvetrain that you'l find interesting.