In the realm of automotive performance, enthusiasts are in a constant pursuit of power and efficiency. When it comes to extracting every bit of potential from an engine, aftermarket cylinder heads have emerged as a game-changer. Among the many factors that contribute to their prowess, the variation of valve degrees stands out as a technical marvel that can profoundly impact an engine's performance characteristics.
Power and Efficiency
The Precision of Valve Degrees
Valve degrees, also known as valve angles or valve inclination angles, refer to the angle at which the intake and exhaust valves are positioned within the combustion chamber of a cylinder head. This seemingly minor detail carries immense significance, as it affects how air and fuel flow into the chamber, how exhaust gases exit, and ultimately, how efficiently the engine produces power.
Understanding Valve Overlap
Valve degrees influence an engine's valve overlap, a crucial aspect of engine performance. Valve overlap occurs when both the intake and exhaust valves are open at the same time during the combustion cycle. This creates a brief period where exhaust gases mix with incoming air and fuel. While this might sound counterintuitive, controlled valve overlap can have beneficial effects on performance.
Variation in Valve Degrees
In the realm of aftermarket cylinder heads, manufacturers offer a range of valve degree configurations to cater to diverse performance goals:
Small Valve Angles (Narrow Degrees)
Cylinder heads with smaller valve angles, often referred to as narrow degrees, can facilitate improved airflow dynamics. These angles allow for larger valves, which can enhance the overall airflow and combustion efficiency. Smaller valve angles are often associated with high-revving engines aiming for maximum horsepower at high RPMs.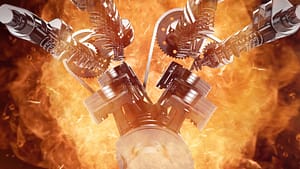 Large Valve Angles (Wide Degrees)
Cylinder heads with larger valve angles, known as wide degrees, offer space for larger valves while accommodating different combustion chamber shapes. Wider angles can lead to better low-end torque and mid-range power due to improved air velocity and swirl within the combustion chamber.
Performance Implications
The variation of valve degrees can lead to several notable performance implications
Power Output
Cylinder heads with narrow degrees might excel in high-revving scenarios, delivering impressive peak horsepower. Meanwhile, wide degrees can contribute to enhanced low-end torque, resulting in brisk acceleration from a standstill.
Torque Curve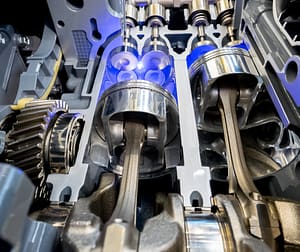 Valve degree variations influence the engine's torque curve. A narrow degree configuration might yield a steeper torque curve that climbs rapidly towards high RPMs, while a wide degree configuration could create a broader torque curve that provides ample power across a wider RPM range.
Efficiency
Optimal valve degrees can lead to improved combustion efficiency. Better air and fuel mixing, along with effective exhaust gas evacuation, can translate into enhanced fuel efficiency and reduced emissions.
Engine Character
Valve degrees contribute to an engine's unique character. Enthusiasts seeking a raw, high-revving experience might opt for narrow degrees, while those valuing strong low-end grunt could favor wide degrees.
The Art of Engine Tuning
Tuning an engine's valve degrees involves a careful balancing act. Manufacturers and enthusiasts alike leverage computational fluid dynamics (CFD) simulations, dyno testing, and real-world trials to fine-tune valve angles for optimal performance. It's a meticulous process that requires a deep understanding of an engine's characteristics and the desired performance outcomes.
As automotive enthusiasts dive into the realm of aftermarket cylinder heads, the intricacies of valve degrees become a captivating puzzle to solve. With each degree of variation, the performance parts industry continues to push the boundaries of what's possible, crafting engines that roar with power, efficiency, and precision. After all, the symphony of an engine's performance is composed of countless harmonious details, and valve degrees are among the most intriguing notes in this dynamic symphony.
We have several Tips articles and videos on the subject of providing useful tips and tricks to address common problems to fix, and upgrades to improve your vehicle's performance, reliability, and longevity.
Tips For Upgrading Your Vehicle
If you are in need for a carburator, here is a Holley Carb Recommendation.