A Powerful Woman Becoming an Automotive Technician
Jana Warnke is an accomplished automotive technician student,
creative, expert thinker, and prior business owner. Local to Tacoma and taking advantage of all the exciting
opportunities that life has brought to her, she pours herself into everything
that she does with tenacity and a distinct motivation to understand the "why"
behind how things work and what can make them work even better.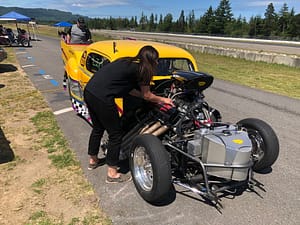 After years of searching for a profession that challenged
her enough to keep her interest, Jana decided to completely overhaul and recreate
her skillset to become an automotive technician! Jana studied Automotive Mechanics Technology at Clover Park Technical College and thrives in this field, showcasing her ability to not
only persevere past the social norms regarding her gender in the trade, but
also her attention to fine detail and how it can be translated into examining
and maintaining systems within vehicles. She sees engines and components as art
and feels most at home building them.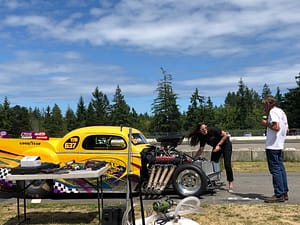 Her perspective and interest in automotive technology have
earned her opportunities to assist in all-woman SEMA builds, earn scholarships
and awards for student excellence, and apprenticeship placement after her
degree program is complete. Jana's goals for the future are to simply make her
children and husband proud while learning to build custom performance cars and
taking on restoration projects to preserve the history of American built
automobiles.
To learn more about Jana and be inspired by women in motorsports, read the post and watch the video of Jana working on the valve lash on the 37 Chevy Coupe. You might also like How to Encourage Women's Interest In Formula 1 And Other Forms Of Racing. One more, on this post Jana Warnke is talked about because she's  a member of our team, and the post is called This is What We Do at Uzbasic Motorsports Performance Parts.
More Women in Motorsports
Dina Parise
Dina handles marketing, branding, runs a mentorship
program, does speaking engagements,
and is the president of Dina Parise Ventures.
Additionally, she also is a driver, along with her husband Andrew, for their Pro Modified racing team.
---
Tami Powers
Tami is Founder at PowerDrive Motorsport Futures and she is the Director of Operations and Business Development with Alan Johnson Racing.